Fraser draws on a broad musical background from both sides of the Atlantic, and enjoys playing an eclectic repertoire of jazz, roots and popular music as well as his own original songs.

Residing in beautiful Prince Edward County, Ontario, Fraser regularly performs throughout the County and surrounding areas.

In demand as a multi-instrumentalist (guitar, electric and upright bass, mandolin, ukelele, keyboards), at any point in time Fraser is usually involved in a variety of different projects.


Fraser is currently a member of......

©2015-2019 – Fraser Hardman
And catch Peter Rea (of The Reasons) and Fraser most Thursday evenings (7 pm to 10 pm) at Coach's Pub and Grillhouse, Picton - a great evening of dancing to 50's/60's/70's rock and roll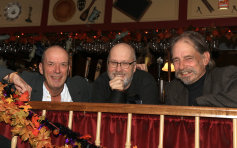 Fraser Hardman